December 31st 2019 New Year Fireworks Cruise
Join us for Hong Kong's New Year Fireworks onboard our exclusive 63ft junk boat. Enjoy free flow drinks and a gourmet dinner buffet against the most amazing backdrop – the Hong Kong skyline at night. We take a maximum of 40 people on our Hong Kong fireworks cruise making this the smallest group countdown party available in Hong Kong.
Our Hong Kong New Years Eve harbour cruise sets sail from Causeway Bay at 9 pm. Full details on the meeting point including maps and picture directions are provided upon booking. Our Hong Kong fireworks cruise lasts 4 hours and finishes at 1 am back at Causeway Bay pier.
At midnight the night sky will be set ablaze with an incredible 12-minute fireworks display over Victoria Harbour. We guarantee you the best vantage point in the city for watching the Hong Kong fireworks. Avoid the horrendously crowded streets this new year in Hong Kong and relax in style with Hello Hong Kong.
Our Hong Kong New Years Eve harbour cruise is a casual affair for over 18s only. We will have a fully stocked bar operating on a help yourself basis, although we will be walking around with a bottle keeping you topped up! There will be good music, good food and a good bunch of people onboard. Bring your dancing shoes and get ready for a good old fashioned shindig!
It does get cold at new year in Hong Kong; please wear something warm and fabulous!
Our exact buffet menu will be confirmed nearer to the time.
It will be something similar to last years menu which was as follows:
• Seared tuna with pink grapefruit and artichoke, mixed lettuce, and pecorino, dijon & honey dressing
• Chicken and beef skewers marinated in lime and sweet chili
• Sun-dried tomato and bell peppers homemade quiches – veggie
• Basket of bread rolls with butter
• Vegetable samosa with mint yogurt dip – veggie
• Penne pasta with button mushroom, shallots in light cream sauce & parmesan – veggie
• Roasted Tenderloin beef with salsa verde on bed of couscous salad with chopped fresh mint
• Tandoori & lemon marinated chicken with mango chutney & micro greens
• Homemade chocolate cake with raspberry
Our bar operates on a free flow help yourself basis and includes:
• Unlimited alcoholic drinks (Prosecco, Red and White Wine, Beer, Vodka, Gin)
• Unlimited soft drinks (Coke, Coke Zero, Tonic, Lemon Ice Tea)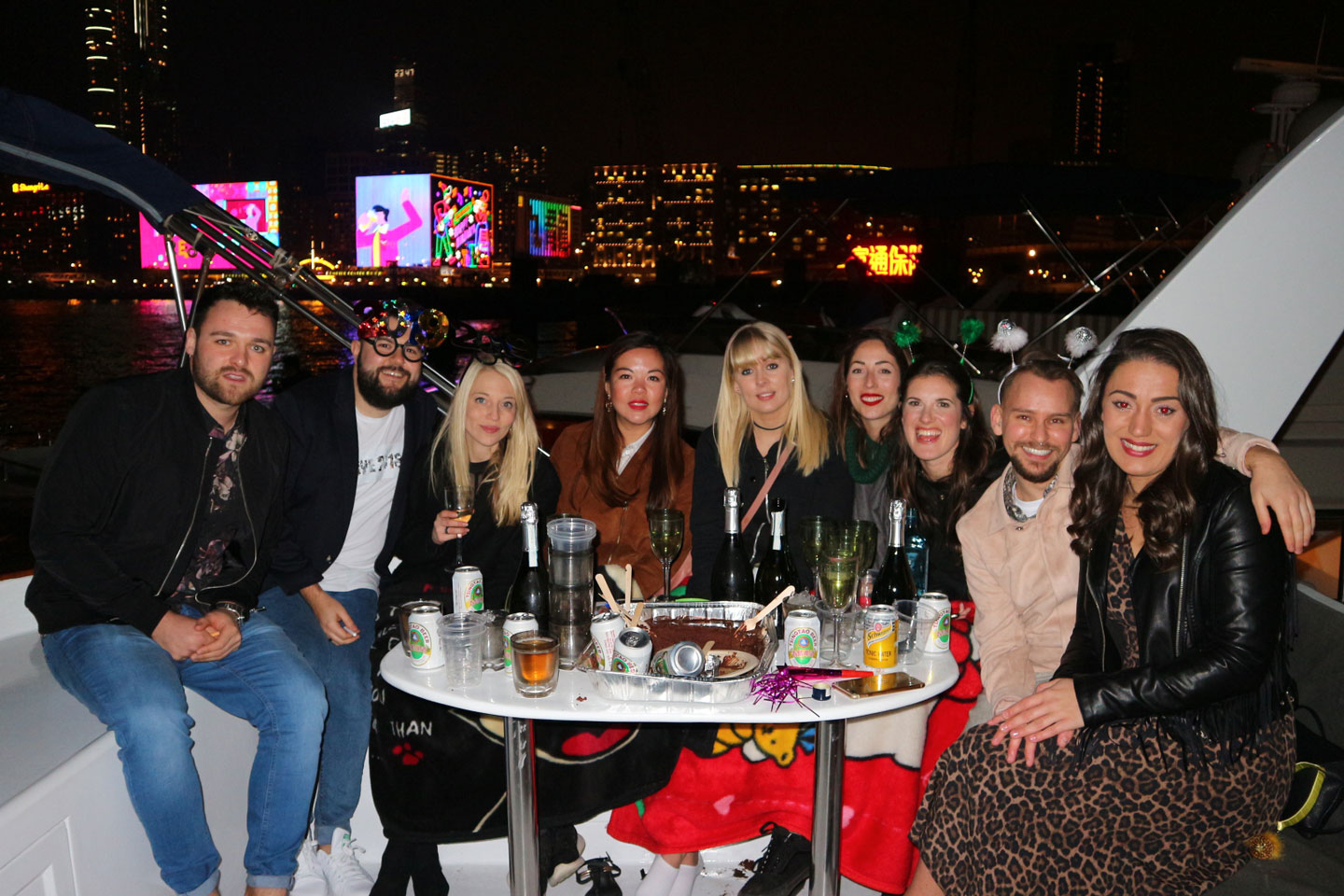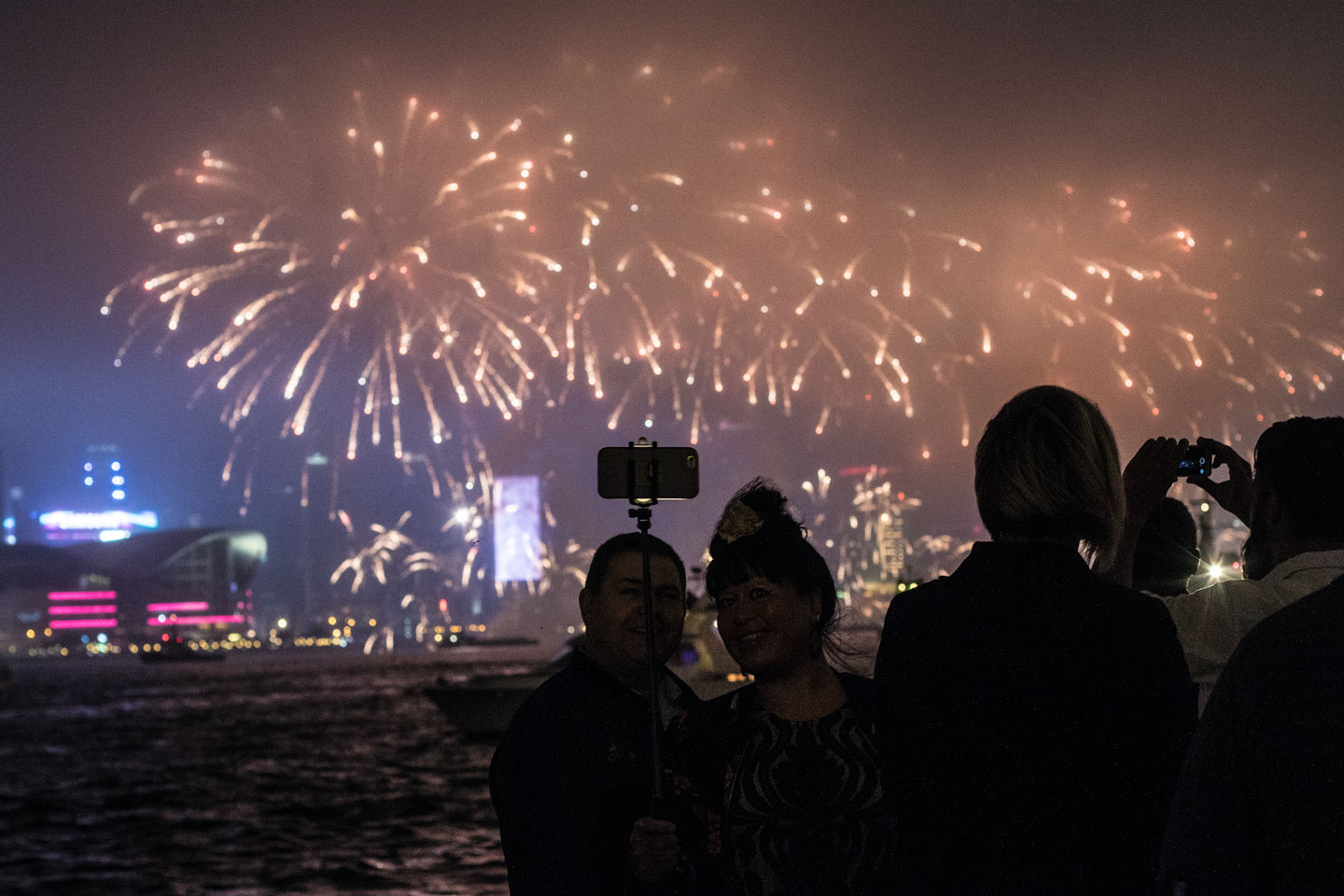 New Year is a fabulous time to be in Hong Kong; it is impossible to not get caught up in the energy of the city's biggest and most colourful festival. Make sure you plan ahead and book early. Our Hong Kong New Year Fireworks harbour cruise gets great reviews so make sure you do not miss out!
Click below to read our guests reviews!
All prices listed are in HK$.
The price includes all of the food and speciality drinks consumed during the cruise. Prices listed do not include the costs of transport to get to and from the start and end points of the cruise. No children under 18 years of age please.
LENGTH: 4 hours
STARTING POINT: Causeway Bay at 9 pm
FINISHING POINT: Causeway Bay at 1 am
WEATHER CONDITIONS: There are no refunds due to unforeseen circumstances including but not limited to cancellation of fireworks, poor visibility of fireworks due to haze, cancelation of the cruise due to bad weather including but not limited to typhoons and red/black rain. For up to date information see the Hong Kong Observatory website.